………..Welcome to the City of Sin
………..Walaitalai Pastors , Deacons and the Saints will commit
………The City that never sleeps
…….The good, the bad and the ugly of…
THE  environment was bubbling  as music was blaring from high -powered  speakers mounted at the entrances of some of the buildings. Armed with fliers  were  Marketers from various companies  advertising their  different products and services calling prospective customers to patronize them  with the  promise of  attractive gifts and rewards .Visitors, Tourists , fun -seekers and the Natives- the Las Vegans were milling around . Lovers irrespective of their ages were seen holding their hands. Gamblers were walking into Casinos. Exotic cars , sports cars and racing motorcycles  and  Double-decker Buses were driving past while the traffic lights were controlling the drivers.
The only thing that stood still are the  skyscraper buildings  that are    competing with one another   in designs  and height as they   are all  struggling for space in the sky! .These buildings are what Yoruba would call awoyanu ,awodatolenu and awosifila buildings on Strip Street in Las Vegas Boulevard , a major road in the Las Vegas Valley of Nevada, best known for the Las Vegas Strip portion of the road and its casinos.
Eiffel Tower in Las Vegas
PHOTOS: TAIWO ABIODUN
Some of these visitors made their way through the corridors , behind pillars, climbing winding staircases, and escalators . While some were in a hurry others were walking majestically enjoying the cool atmospheric condition .Various activities were going on. Marijuana was being smoked freely , they call this recreational Marijuana which is legal in Las Vegas. It was all fun. Some Stripers  were entertaining with their erotic dance. They  know Son of Man's weakness so they exposed the "areas" and  "angles" that would  make Son of Man to become restless and commit sin .
Although it was rowdy but boisterous with a lot of fun. A minstrel  was singing and playing a piano expecting money from passers by .  A homeless man   clutched his dirty clothes by his side and  with his face was contorting with pain and  waving his long withered hand  begging for alms .Another was looking askance  with two hands stretched .Poor me, I never believed there are beggars or homeless people in America!
We danced and danced and danced………. 
Some ladies were half- nude calling passers-by, calling for shots. When  I sighted the damsels with feathery hats I remembered the four wise monkeys and also a carving of the three wise monkeys proudly placed above the door of the shrine since the 17th century made by a sculptor, Hidari Jingoro, the carving is a pictorial maxim of the phrase, "See no evil, hear no evil, speak no evil". No wonder the saying "Do not see evil, Do not hear Evil, do not touch Evil and do not do Evil ". No wonder one would see young and old couples holding themselves in order to avoid disobeying or falling foul of these four rules in Las Vegas!,
Who is the best dancer here?
I asked my wife, Ronnie whether I should obey the three rules of the monkey , she said "Yes , but also obey the fourth one 'do no evil"'. I asked whether I could take picture with them, she responded " of course if you want", she brought out my iPad and took some  shots.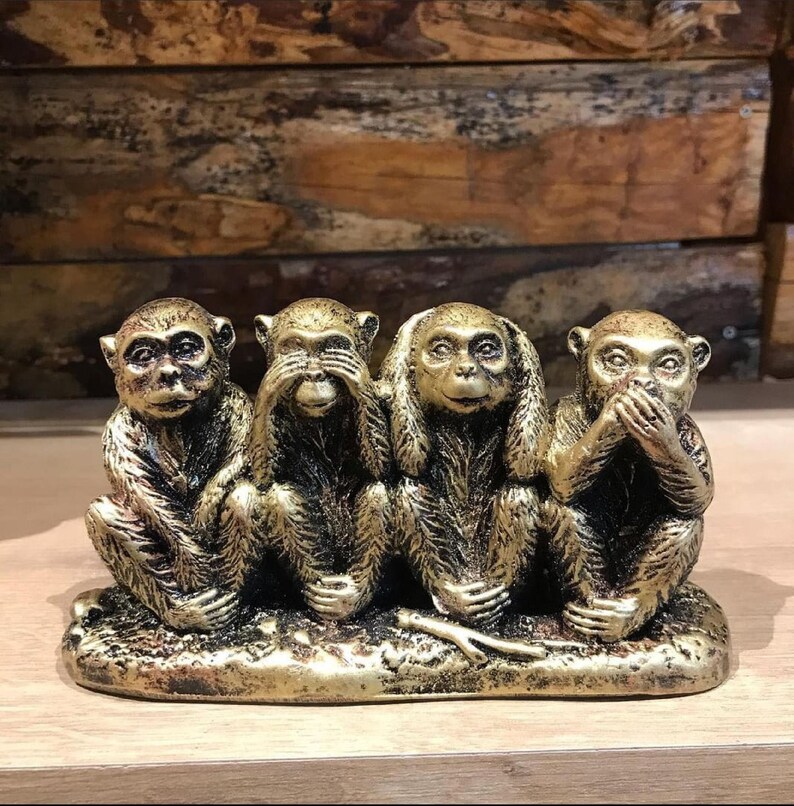 The four wise monkeys
When I sighted many of these damsels of different shapes,  races and colors  I screamed "Ha! mo gbe, no wonder King Solomon had 700 wives of royal birth and 300 concubines". I screamed 'Lord where is thy face ?. Solomon must have seen these and their beauty, dressing and brains of these ladies'. I now realized why Solomon should not be blamed. I now saw the reason why the powerful Samson fell on on a woman's lap. I now saw the reason why great men who could not control themselves fell yakata and had their lives cut short or miserable .
Walai talai to the lily- livered or a Gigolo infact if you are a Man of God, or Pastor  you will beg not to be tempted for if their beauty did not attract you their dressing would .And if their dressing did not do the job then their magic wand – their smile and the way they beckon on you showing their glittering white teeth and with their sexy eyes  . Call them 'Mother , sorry, Father Christmas as they all dressed in Santa Claus suit. But their own Santa Claus did not give out gifts instead they demanded for gift -money .
Taiwo Abiodun dancing with the ladies
Taiwo Abiodun with the ladies
"Come and take picture with us ", one of them called this reporter  .
Seeing them one could see their  artificial wings attached to their clothes , they wore their sexy chain bra jewelries, some were made of silver , some of gold and some crystal body chain. Some wore their father Xmas Caps but no beard  .Their shoes were expensive and enticing . Their faces were bright , their good set of teeth were glittering . They giggled  and wriggled their waists .We took pictures, danced and danced .
When they demanded for money , Ronnie gave them twenty dollars, and said " Abbey , they don't do all this for free, you have to pay them, that is their business".
I went into my hotel room and many thoughts flooded my mind, so it is true that Las Vegas is called the Entertainment Capital of the World, the Gambling Capital of the World, the Marriage Capital of the World, the City that Never Sleeps among others. It is fun 24/7.It is fun throughout the whole year . 
No wonder they called the city ,Sin City  where gambling, ladies of the night and liquor are all easily accessible.
I shall visit the Sin City again ,but having the four monkeys' wise sayings in mind.